The home is more than just a place we live, work, and play — it's a form of expression in the most personal way. While significant time and effort often go into the major elements of designing a home, the finishing touches are a canvas for allowing your personality to shine through – whether a statement wall covering or an artistic, one-of-a-kind decor piece that leaves your guests in awe.
We're breaking down creative ways to transform your space into one exuding excitement and luxurious elegance the moment you walk through the door along with the 210 design team's current favorites to achieve these touches.
Mirrors That Elevate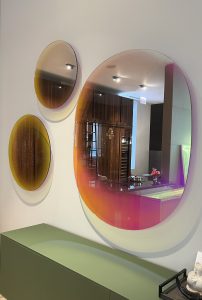 Shimmer Specchi Collection by Glas Italia
Decorating with mirrors has a plethora of advantages aside from serving as a tool of reflection. 
As an incredibly versatile design fixture, a mirror can instantly add glamour and interest to your space while also enhancing natural light. They're one of the simplest ways to maximize the appearance of space in your home while having a little fun. The best part? This finishing touch can be applied to any room in the house!
210's recommendation: With an evolving appearance based on the angle of light and vantage point, the magical Shimmer Specchi Collection from Glas Italia adds not only function, but a fun and artistic layer to your space!
Bold, Defining Furniture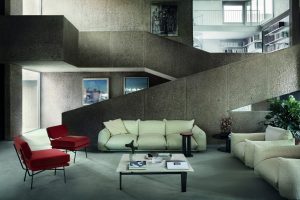 Marenco Seat System by Arflex
Regardless of your space's tone, there are endless pieces and possibilities to truly defining the space. The ultimate goal when selecting furniture is to use the chosen piece as a final touch — which often ends up being the focal point of the room. An iconic, sculptural piece, like an armchair, sofa, table, or dresser, not only changes the look of the room dramatically but also brings cohesion and unifies the different elements within the space.
210's recommendation: With its linear profile and soft, rounded shapes, the Iconic Marenco sofa by Arflex can add a bold and exciting flair into your interiors or outdoors!
Wall-coverings with Personality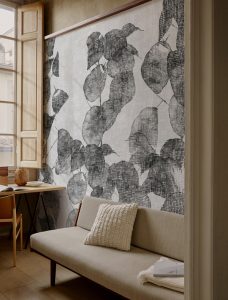 Diaphanus Wallcovering by Wall&decò
As one of our client's favorite home accents, wallcoverings can be used in every room of the house, including the kitchen, bathroom, mudroom, stairwell, or even outdoors! Perhaps the most alluring feature is its ability to completely unleash your creativity, imagining a new environment and giving any room a more tactile appearance. The wide range of colors and textures available provide homeowners with limitless opportunities to personalize a space, making it a true reflection of themselves. 
210's recommendation: Wall&decò's tailor-made contemporary collection allows for a wide range of customization, from changing the colors and sizes of numerous prints  to creating entirely new styles explicitly designed for the homeowner! The Wet System by Wall&decó is perfect for adding waterproof oomph to kitchens, bathrooms (including showers) and outdoor environments. 
Ready to include these simple but elevated design elements in your home? It's never too late to add a finishing touch! Visit our River North showroom in Chicago to check out our most recent offerings from renowned Italian brands.