The 60th edition of the Salone del Mobile exhibition has officially wrapped up, and we're excited to reflect on what we saw at this year's expo. In addition to making a triumphant return after a two-year hiatus, this year's EuroCucina expo focused on revisiting design to meet the evolving standards for both comfort and sustainability.
With so many incredible debut launches and technological innovations at play, 210 Design House's President Rama Dandamudi noticed one consistent theme across the board while on the ground in Milan — an emphasis on approachable and inclusive design that fosters a comfort and usability for all. 
Rama's standout picks included: Gaggenau's showcase of Lithoverde, by marble master Salvatori (a newly created block of marble made of fragments that create a stunning, multicolored effect) and Flexform's latest collection featuring seating systems that become the star players in a residential ecosystem. 
As for favorite picks offered by 210's specialty collection of brands? Read on to learn more about the latest from Arflex, Snaidero, MisuraEmme, Glas Italia, and Wall&Deco — straight from Salone!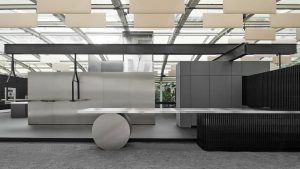 "A Statement of Form," by Gaggenau
Arflex
Connection to the outdoors was a big focus for Arflex this year, and rightly so – outdoor living has risen to the top of homeowners' wish lists and, as a result, has become a top priority for architects and designers in the residential/hospitality space. The Marenco Outdoor collection, designed by Mario Marenco — "an iconic piece," according to Rama — includes a linear sofa with soft, rounded shapes that are ideal for both hospitality and residential outdoor settings. The sofa is a must-have thanks to its unique design and extensive modularity!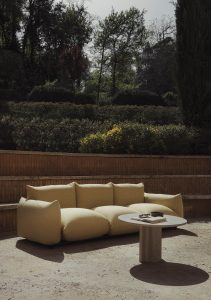 Marenco Outdoor, by Arflex
Snaidero
With a deep-rooted passion for Italian craftsmanship, Snaidero has always prioritized combining exclusive design with innovation, functionality, and sustainability, and this year's Salone launches were no exception! In their massive 4,840-square-foot exhibition space this year, Snaidero's newest innovations embraced a multitasking living space concept that displayed the versatility of elements and their ability to respond to the current demands of consumers worldwide. 
Introducing features such as full-height doors – up to 275cm – and a new ribbed wood finish with honeycomb panels, Snaidero's careful attention to detail displayed both personality and exclusivity in response to market trends. 
Whether Elementi's expression of the minimalist style, or Aria Worktop's new patented system featuring an anodized profile that's integrated into the base unit worktop, these new launches"beautifully combine the idea of livable design with the avant garde," according to Rama.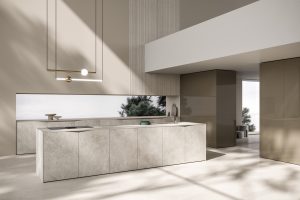 Elementi, by Snaidero
MisuraEmme
Having proudly been one of only 12 furniture companies that have taken part in all the 60 editions of Salone del Mobile in Milan, year after year MisuraEmme has researched and experimented with new materials to evolve their presence at the expo.
This year's product launches not only showcased furniture with a high level of personalization but also presented solutions in accordance with various international requirements. Rama's perspective: "Some of their impressive new product launches include the Eros night group (chest of drawers and nightstand) which are characterized by an intelligent dialogue between metal, marble, and wood, and the Palo Alto Wall, a reeded wall system characterized by uprights equipped with an electrified rack fixed to the wall and by the backrests that make up the structure."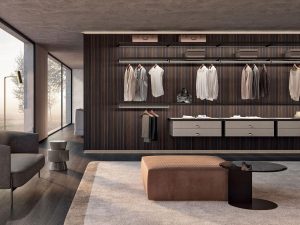 Palo Alto Wall, by MisuraEmme
Glas Italia
As the importance of glass in building design grows, companies such as Glas Italia come with renewed energy and enthusiasm to explore and experiment with an unprecedented and daring use of the material.
"For their latest at Salone, Glas presented a range of products that distinguish interior environments with character and elegance, and elevate their beauty," says Rama. The latest wall partition systems, including Aladin, Sherazade, and Sherazade Wall Patchwork, offer a wide range of layouts and formats. These expertly manufactured glass doors and partitions also add design value to modern interior architecture through their offering of technical solutions, decorative range, and material sustainability.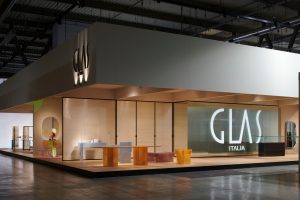 Glas Italia's booth at Salone del Mobile 2022
Wall&decò
Wallpaper is a major design trend that shows no signs of slowing down. New printing techniques and finishes, and the availability of new substrates, are constantly pushing the boundaries. With various levels of customization, ranging from adapting colors and sizes of graphics in the collection to creating customized subjects tailored to the customer's needs, Wall&decò's solutions meet even the most complex project requirements.
For Salone this year, the company had the opportunity to present an incredible Contemporary Wallpaper Collection that evokes the details of their Virtual Museum, as well as Rama's favorite — the Sound System Wallpaper — a new wall covering system that enhances the acoustic comfort of interiors, reducing reverberation while delivering the same quality of decorative excellence!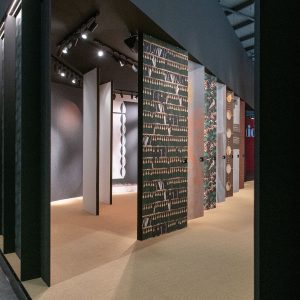 Wall&decò's Contemporary Wallpaper Collection 2022 at Salone
Are you as excited as we are to incorporate these incredible design technologies into the personality of your own space? All of these new product launches will be available for purchase through our showroom in mid-July. Work with us to discover the limitless possibilities for infusing these products into the beauty of your space!