While 210 Design House's showroom and our product partners are constantly evolving, no aspect of our business has seen more change than the multi-housing space. Working on a building that involves thousands of kitchens and bathrooms, as many of our high-rise projects do, might seem like a much different process than designing for a single-family homeowner, who simply wants to refresh their kitchen cabinetry or install a bathroom vanity, but both increasingly want the same things: luxury and customization. 
Over two decades ago, when we embarked on our first multi-housing project, the design scene was predominantly traditional. Developers were sticking to the same tried-and-true formulas. Recognizing a need for more captivating and contemporary cabinetry, similar to what we were installing in single-family homes, we began presenting these fresh designs to developers — who quickly realized that the market could not only support the product, but was demanding it.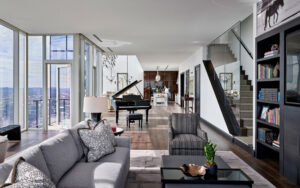 Nashville Penthouse showcasing Snaidero and Plain & Fancy Kitchens; Michael Robinson Photography
"Our first large-scale project in Chicago, 340 on the Park, featured 350 kitchens spread across 60 floors, all showcasing a sophisticated European aesthetic with our Snaidero cabinetry," recalls 210 President Rama Dandamudi. "Back then, there were only a handful of companies in the country capable of such work. Since then, we've successfully completed over 25 buildings, all driven by our ability to meet this growing demand."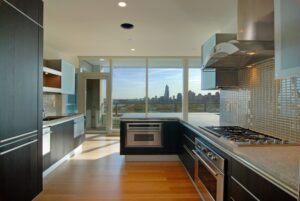 Snaidero Kitchen at 340 on the Park, Chicago
Exploring the Evolution of Multi-Housing
Over the last two decades, the luxury market has only expanded, requiring increasingly personalized designs and fresh perspectives. "Developers want to be able to differentiate themselves with every project and offer stand-out technology, finishes, and appliances," says Erika Klimenko, 210's Director of Projects. "Each project has its own distinct features and design, recognizable to that building and project. Thick paneling, distinct shelving areas, cantilevered counters … we want to set each design apart and make each project iconic."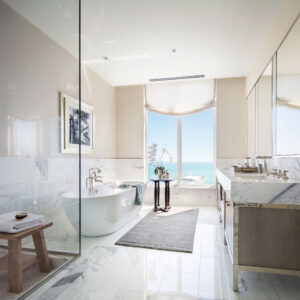 Snaidero bathrooms, One Bennett Park, Chicago
While many of these "iconic" multi-housing projects use products from our brand partners, most notably Snaidero, MisuraEmme, and Plain & Fancy, 210 also offers its own bespoke Italian line of cabinetry, Concerto, offering a variety of high-end finishes. 
Cascade Project, showcasing Concerto Cabinetry
"I created Concerto to address a critical need for a high-quality custom cabinet line that is able to offer a wide range of materials and styles to meet the demands of architects and designers in the multi-housing space," Dandamudi says. "Through a unique relationship with our industrial partner in Italy, working alongside our experienced contract team in the U.S., we're able to offer unmatched customization at a single building scale."
The Design Process for Multi-Housing Units
Designing each project is a one-of-a-kind journey. Typically, developers offer various finish packages to cater to potential buyers. Take, for instance, our project, The Residences at St. Regis Chicago, where buyers could pick from four vibrant color palettes, all featuring top-notch Snaidero cabinetry. But the penthouse owners collaborated directly with our 210 design team to craft entirely unique spaces tailored to their preferences!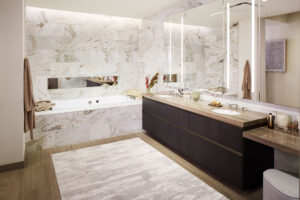 Snaidero Bathroom, The Residences at St. Regis Chicago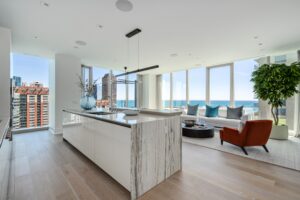 Snaidero Kitchen, The Residences at St. Regis Chicago
According to Klimenko, "these homeowners are all about that seamless, harmonious vibe. They often prefer carrying materials throughout their homes to maintain a consistent look and avoid any choppy feel," she explains. "They're bringing us these grand design ideas to bring to life: cozy dining nooks, fancy add-ons for cabinets like smart organization solutions and snazzy lighting. It's all about blending practicality with a dash of panache."
"However, these projects, which are essentially one-of-a-kind, custom homes, are constructed within a bustling construction environment, with ongoing work happening on numerous floors," Dandamudi explains. "When you're dealing with delivering 350 kitchens and 1,000 bathrooms, timing and logistics are absolutely crucial. It's quite a challenge, but fortunately, we've always managed it seamlessly."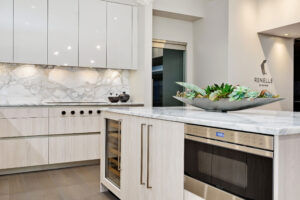 Snaidero Kitchen at Renelle on the River, Chicago
"In the dynamic world of high-end multi-housing, 210 is continually adapting and expanding its capabilities," Dandamudi adds. "We're currently engaged in projects across Chicago, New York City, Nashville, and Washington D.C., and our reputation in terms of the breadth of our offerings, experience, and pricing continues to set us apart. People are consistently amazed by what we can achieve."
Interested in learning more about our Multi-housing portfolio? Work with us for more details.