At 210 Design House, we're enthusiastic about and inspired by all of our projects, but some literally go beyond and above  — 1,198 feet above, to be exact. Now the third tallest skyscraper in the Windy City, The St. Regis Chicago, an undulating architectural masterpiece designed by Jeanne Gang of Studio Gang, opened its magnificent doors to the public in May, introducing its 159 luxurious hotel rooms, 33 suites, high-end dining options, and a breathtaking spa. However, 210's time with the St. Regis began back in 2017, when we started work on The Residences at St. Regis Chicago —  the property's 404 standard and 21 360-degree penthouse units.
"The St. Regis is an iconic, landmark structure, and being a part of it was such an exciting endeavor," says 210 President Rama Dandamudi. "The developers entrusted us to create something that matched the extremely high standard of the building, and we were able to exceed expectations in our execution."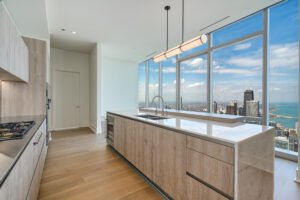 The Vision
From the outset, 210 was aligned with the St. Regis vision. "The developer chose to work with us because we can do things that are highly customized and exclusive," says Erika Klimenko, 210's Director of Projects. "It was really about creating cohesive designs throughout the homes that show the full capabilities of the products we carry." 
From Snaidero kitchens and MisuraEmme closets to custom millwork wrapping interior penthouse walls, 210's designs for the St. Regis and its new homeowners extended through every inch of the homes, beyond kitchens and bathrooms into living rooms, bedrooms, closets, and more.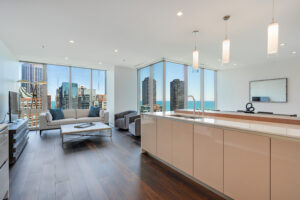 Cabinetry for the Penthouses
In one captivating penthouse transformation, 210 integrated Snaidero cabinetry to both enrobe architectural columns and craft bespoke millwork along interior walls. This creativity continued to unfold into another unit as MisuraEmme's versatile closet systems elegantly expanded into bathrooms and living rooms, seamlessly morphing into customized benches and entertainment centers. In yet another unit, our designers were able to seamlessly incorporate both Snaidero's high-gloss eucalyptus cabinet doors and MisuraEmme's alluring glass fronts.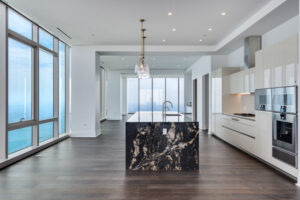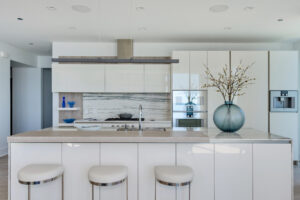 Closets for the Penthouses
Klimenko's favorite St. Regis Residence project, however, took an element traditionally in the 210 wheelhouse — closets — up a level. "The huge Misuraemme closet we created for one penthouse unit is undoubtedly one of the most spectacular closets we've ever done," she says. "It looks like a boutique — everything is on display — with the glow of the lights and the reflection of the glass and mirrors. It's really an experience, and the client told us she spends most of her time at home there. She can't stop looking at it." 
Indeed, closet design was a huge focus of much of 210's work at The Residences at St. Regis and pushed the boundaries of the traditional design process, as homeowners requested integrated private spaces. "Imagine a primary suite: the bedroom flows into the closet, which also integrates the bathroom space," Klimenko says. "Everything has to be designed together because it's a cohesive space." 
To achieve that connected aesthetic, 210 went beyond designing closet space simply for hanging and storing clothes. "We added vanities, makeup-and-dressing areas, along with occasional seating where a homeowner could relax and read a book," Klimenko continues. "These bathrooms and closets are large and expansive, so it has to become a whole-room experience. It forced us to think about closet and bathroom design in a new way."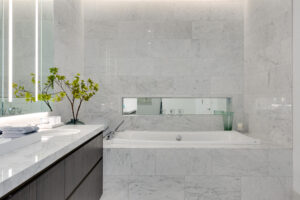 Indeed, The St. Regis Chicago presented 210 with one of its biggest design opportunities yet, one that challenged the team to think both bigger and outside the box. The result: stunning, customized spaces that elevate an already soaring building. For more information about how we can create an equally beautiful design for your home, visit the 210 Design House showroom.