We're heading into the most wonderful time of the year — and the busiest, with parties galore and family and friends visiting from near and far. All of that holiday merriment requires an extra level of preparation at home, and storage solutions for the kitchen, bath, and entertaining spaces become more important than ever. 
However, much of the prep work can be done well in advance by creating a home full of innovative storage options that not only serve homeowners in their daily lives, but make hosting during the holidays that much easier. "No matter the season, in my 20-plus years of designing kitchens, it's all about storage solutions," says 210 Design House Senior Designer Alexander Adducci. "Our clients all have different needs, but optimizing storage seems to be universal." 
The key: thinking about storage in both unique and wholly modern ways — namely by incorporating custom-made cabinetry (Snaidero and Plain & Fancy are endlessly customizable), installing appliances in unconventional spaces, and adding modular furniture that accommodates a gathering. With those solutions and more, 210 creates homes that not only work for, but elevate every occasion.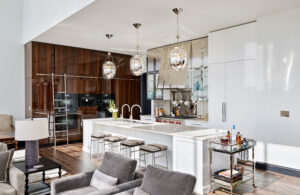 Plain and Fancy Kitchen Project in Nashville, by 210 Design House
Incorporate Personalized Storage Solutions in Kitchens
When choosing kitchen cabinetry, you'll undoubtedly consider aesthetics, but also think about how you live, cook, and entertain. "We always interview clients to figure out what they actually need in the kitchen," Adducci says. "For one homeowner, who liked to host and was a big baker, it was extra vertical storage for baking trays and serving platters. For another couple, we added container and bin storage because they regularly purchased 50-pound bags of rice and flour and bulk spices."
Even homeowners who don't spend a lot of time in the kitchen should consider both the depth and height of cabinetry (will horizontal shelves or vertical compartments work better for your kitchenware?) and any special appliances that need to be accommodated. For holiday baking enthusiasts, for example, Adducci suggests incorporating an in-cabinet lift, which allows a large mixer to be stored on a base-cabinet shelf that pops up for use.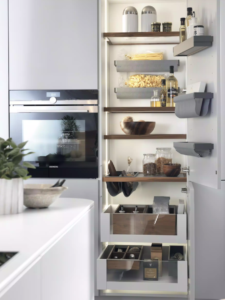 Thoughtfully Outfit Your Bar
During the holidays, your bar becomes an entertaining destination and should be outfitted accordingly. Adducci recommends incorporating tall storage for wine and spirit bottles, along with pull-out drawers in base units, especially if stemware will be stored in deep cabinets. Consider easily accessible drawers for bar accouterments like bottle openers. "We are always thinking about how to make things more convenient for the homeowner and their guests," Adducci says.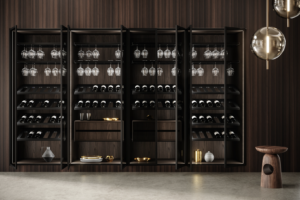 For clients who take their wine collections seriously, MisuraEmme's Palo Alto iBox (currently on display in the 210 showroom) includes shelving components made specifically for storing and organizing wine bottles and accessories. It works equally well as a pantry and is beautiful enough to live in public spaces.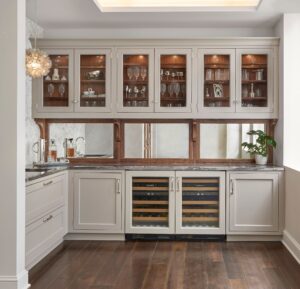 Plain & Fancy Cabinetry, at 210 Design House
Pamper Guests in Bathrooms
Powder rooms are always a great place to make a design statement (Wall&decò''s WET wallpaper is our current favorite way to do so), but guest-bath storage solutions should be kept simple, sleek, and largely depersonalized, Adducci says. Vanities like Noorth's Touch vanity, with seamlessly integrated drawers perfect for storing additional hand towels, and Vitage's floating Tailor vanity are sleek options that elevate powder rooms to design experiences.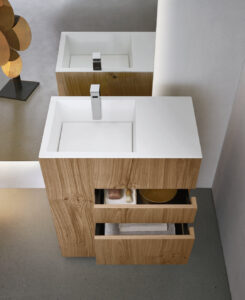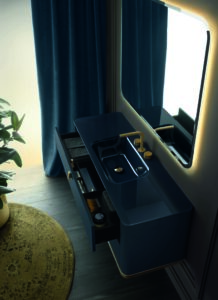 For overnight guests' ultimate comfort, Adducci suggests including a linen closet within guest bathrooms, if space allows. Store additional towels, toiletries, and accessories like hair dryers out of sight within. For a true luxury experience, include a warming drawer — traditionally used to warm plates and prepared dishes in a kitchen — in a vanity for the coziest bath towels.
Prioritize Flexibility in Furniture
Think beyond bookcases and dressers for increased functionality and storage in home furnishings. "If the space allows, I recommend having multiple options for poufs and tuffets scattered about an entertaining space, so you can easily add extra seating," Adducci says. "MisuraEmme's Virgin pouf is a beautifully designed option, and Arflex's Pouf footrest can easily be stored under a sideboard when not in use."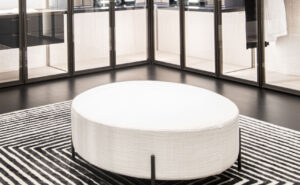 '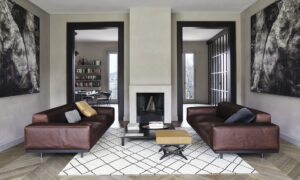 Additionally, Glas Italia's Magic Box is a modern take on a classic piece of storage furniture. 210 Design House's showroom features a green glass version of the piece with a mirrored interior. "It serves the same purpose as classic, built-in dining storage," Adducci says, "but it's also making an artistic statement." 
Ready to elevate your year-long storage needs? Discover countless ways with our team of expert in-house designers.