Kitchens continue to evolve as homeowners depend more on technological advancements that enhance their everyday lives as well as meal-time and entertaining capabilities. Touchless technology, voice automation, and app-controlled appliances are increasingly found in more and more contemporary kitchens. 
From lesser utilized technology like touch-on faucets, LED indicators, and hands-free appliance doors to more popularly requested features like integrated in-cabinet lighting, under cabinet plug molds to hide power outlets, magnetic backsplashes, and more — modernized and technologically equipped kitchens are sure to increase efficiency and enjoyment whether a seasoned cook, dually using the space for work time, or gathering with friends and family.
210's design experts share the most recent tech-forward solutions to help take your kitchen to the next level:
Cleaner Storage Solutions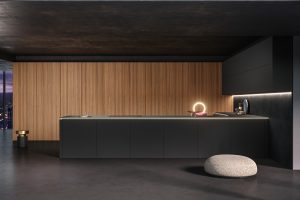 Sipario Pocket Doors by Snaidero
Finding a balance between form and function is one of the more difficult aspects of designing a kitchen — but most challenging and more apparent when it comes to storage spaces. By taking the minimalist route, you can achieve the ideal combination of form and function. Not only will this approach draw attention to aesthetics, but also ensures minimal interference with functionality.
210's recommendation: For homeowners seeking a cohesive design with maximum functionality, the integration of Sipario Pocket Doors by Snaidero is a recommended approach. The doors create an encompassing effect that conceal the functional area while adding to the design of the minimalist environment. In addition to clean solutions for organization, the customizable paneled niches provide a seamless look and additional walk-in storage areas.
Countertops Customized to Lifestyle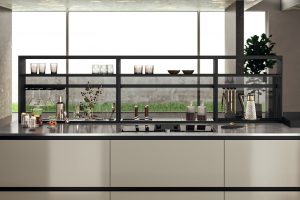 e_Wall System by Snaidero
While countertops and islands are excellent for added display and drawing interest in the kitchen, they also have the highest level of activity. Residential homes are taking more and more inspiration from commercial culinary design by incorporating customization and functionality that supports all types of lifestyles. For example, cooktops installed beneath the counters and remote control access for appliances allow for more space as well as clutter-free countertops. 
210's recommendation: For homeowners that enjoy experimenting in their kitchen, try technology that supports adaptability by way of function and aesthetics. The Tibetus Bridge Console by Snaidero is a non-invasive, light-weight structure that meets the demand for a discrete equipped piece that can be installed over any island or peninsula. Another option, Snaidero's e_Wall System, consists of open elements that can be wall mounted or integrated both on worktops and islands — with lots of room for customization. The variety of functional aspects in both systems allows for individual creativity.
Elevated Entertainment Areas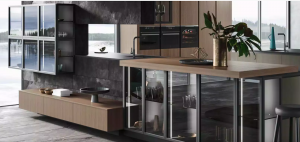 Rialto Showcases by Snaidero
Besides their fundamental utilitarian requirements, today's kitchens are typically the heart of the home. With family members and visitors preferring to congregate around the kitchen rather than separate sitting areas, the space must be both comfortable and creatively planned. One of the best ways to achieve a top-notch space fit for entertaining? Elements designed to merge the kitchen area with living spaces! 
210's recommendation: Available in free-standing, wall-mounted and island or peninsula base units, Snaidero's Rialto Showcases offer sophisticated appearance and storage solutions, while creating a complement to kitchen spaces and details. The lighting system within the showcase units eliminates glare while displaying the internal fittings through a flush-mounted vertical cut-out on the side. These display cabinets go beyond simpler elements with a complex synthesis of technological and stylistic elements.
Ready to upgrade your kitchen with cutting-edge technology? Visit our River North showroom, and work with our designers to find out how you can implement the latest from Italian brands into the beauty of your kitchen!