Luxury multi-housing developments go beyond providing livable spaces — they are an extension of your lifestyle. These spaces increasingly offer professional resources and wellness features that can be incorporated into everyday life, especially as more people work remotely or enjoy flexible schedules. With the multi-housing market advancing significantly in recent years, homeowners are now looking for a more personalized, bespoke residential experience, in addition to standout amenities.
As high-end design becomes more attainable within the multi-housing market, the perception of what luxury entails has also evolved. Residents are prioritizing convenience and restoration now more than ever – and for good reason. To achieve this, there are various elements multi-housing sector designers should consider, especially for kitchens, closets, and bathrooms.
Kitchens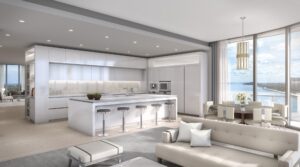 Snaidero at The Bristol, Palm Beach
We've said it before, and we'll say it again — the kitchen is the heart of a home. Beyond  functional purposes, the kitchen space is where a family's lifestyle takes shape and remains one of the most important selling points. While it's vital to understand what a resident needs from their space, multi-housing spaces require designing for potentially different families and various types of lifestyles. Therefore, designers should aim to incorporate features that allow for personalization while also considering the most integral element – utility. Spatial movement and the use of a space in relation to the rest of the home should be strongly considered.
In order to create a holistic experience for future occupants, a clean and streamlined layout, stylistic design, and the incorporation of cutting-edge appliances are essential. Some of the most sought-after details in a luxury kitchen include ample hidden storage, waterfall edges on islands, built-in appliances, under-cabinet lighting, handleless cabinets, motion controlled systems in wall units and drawers, and more.
Closets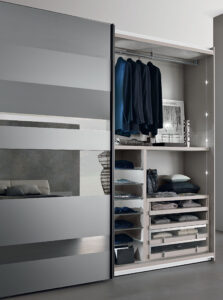 MisuraEmme Closets
Designers must prioritize functionality when creating closet spaces for multi-housing projects. Square footage is typically at a premium in this market and residents consistently seek ways to optimize the space that they have. One way to do it? Bespoke closets! 
It's the smaller touches and attention to detail that make the difference for prospective residents — for example, having a built-in organizational system not only provides convenience but also a sense of luxury and improved lifestyle. Closets with flexible layouts, shelving, cabinet organizers, integrated lighting, and other innovative storage solutions add efficiency to living spaces as well as the ability for residents to better customize their space and belongings to fit their needs.
Bathrooms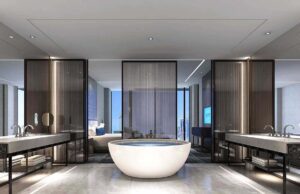 Snaidero at The St. Regis, Chicago
When it comes to bathrooms, residents typically look for features like a more timeless aesthetic, spa-inspired details, and higher-end materials and additions such as double-shower systems, rain-shower walk-ins, and Roman-inspired baths. Since wellness is important to new age luxury, bathrooms should be visually relaxing as well as incorporate elevated materials and excellent lighting. Another essential (but often overlooked!) design element in the bathroom is storage. Ample storage is necessary for residents to have space for everyday items and needs like extra towels, toiletry products, and other necessities. Suspended vanities with under-cabinet lighting are becoming increasingly popular as they take up less visual space in the bathroom and offer a more clean and contemporary aesthetic.
Plumbing areas are a higher priority when it comes to maximizing storage since they take up space. Incorporating partial depth or U-shaped drawers that fit around pipes allow for greater storage. In the sink base cabinet, employing a roll-out drawer or flexible shelving will provide for better access to stored items.
———————
Feeling inspired to explore the dimensions of these luxury developments? Collaborate with us for additional inspiration and ideas on further elevating the multi-housing experience!