Elevating your closet entails more than just keeping your belongings clean and organized — it is an investment that will enhance your home and your life. There's no better time than now — in the throes of spring cleaning — to dedicate your attention to revamping and re-organizing your closets. From the most elaborate and spacious walk-in designs to smaller-scale hallway nooks, our team of closet experts has three recommendations that will guide you through the steps to elevating your closet to next-level luxury!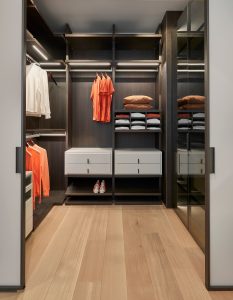 210 Design House Showroom
Illuminate Your Style and Space With Lighting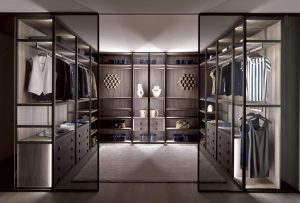 Image credit: MisuraEmme
Any space that is properly lit is inherently easier to navigate and feels more accessible — closets are no exception to this. Not only will a good lighting system help you delineate your belongings from shoes to bags to sweaters, but it will also make colors and textures appear more vibrant and clear, providing ample inspiration for your next look!
While natural or directional lighting (canned/focused LED, and even mirrors!) can help the space feel more open, bright, and inviting, a chandelier or grand fixture adds an element of drama. Pro tip: when thinking about an overhead light or a chandelier, consult with your designer during the initial planning stage. From there, the options — such as under-mounted lighting, strip lights, and even natural light — are tailored to direct the lighting's emphasis based on your closet configuration.
Optimize Your Organization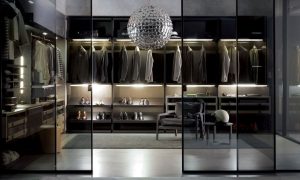 Image credit: MisuraEmme
User-friendliness and functionality are the ultimate luxury in all areas of a home, but especially in spaces that store your most prized possessions and collections. But let's take this a step further than shelving and hanging areas and look at accessory storage. 
Having designated spaces for shoes, handbags, jewelry, and more (in addition to clothing storage) can help achieve a cleaner look, and automatically add an elevated, luxurious feel to the space. Outfit that dedicated space with accessory-specific organizers like jewelry inserts, belt and tie racks, and watch containers. In addition, small touches of texture go a long way in adding that extra layer of luxe and intrigue — exhibit accessories like jewelry and watches in glass-fronted cases, leathered drawers and textured storage boxes.
Take the next step to storage luxury by including seating and islands as part of your closet revamp. Islands provide additional countertop space as well as drawers and shelves for extra storage; while seating, whether in the form of a simple chair or an elegant chaise lounge, can transform your closet into its own dressing room!
Maximize Mixed Materials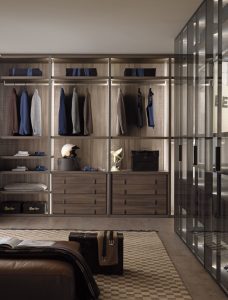 Image credit: MisuraEmme
Finally, incorporating a range of textures, colors, and materials into your closet design is essential for visual appeal, while also adding functional benefits. Transparent glass doors, for example, allow for a stunning display of the space, while their reflective glass can also be used as mirrors while getting dressed. Glass doors embedded with fabric or linen can act as a room divider and as a continuation of the aesthetic and design of the bedroom. Similarly, hardware tends to have the greatest impact when it complements the materials chosen for your bedroom and bathroom.
It's not only about the materials themselves but about how they interact with one another. For example, pairing a reflective glass door with pebbled leather storage cases creates an interesting contrast, while adding to the space's unified luxury. 
With just a few of these changes, you can transform your closet into a luxurious storage space reminiscent of a high-end boutique — and, most importantly, a personal style statement you'll enjoy every time you get dressed. Whether it's a complete redeisgn or transformation in the works, work with us from concept to completion on any closet project!