Long gone are the days when reaching retirement age also meant giving up a certain standard of living, trading in luxury homes for sterile apartments, rich colors and textures for shades of beige and stainless steel accents. Around 10,000 people turn 65 every day in the United States — the last baby boomers turn 65 in 2030 — exponentially growing the demand for housing that accommodates their evolving needs without sacrificing comfort or style. 
The takeaway: there's a huge market opportunity for design geared to the country's swiftly growing older population who are prioritizing turning their homes into lifelong ones that accommodate their needs at all stages of life. By incorporating cutting-edge technologies, customized furnishings, updated kitchen and bath concepts, and forward-thinking designs that accommodate both current and future needs, today's designers can create "forever" homes that don't forgo luxury or quality of life. Here, we're compiling our recommendations of cutting-edge design options for living comfortably – without compromising aesthetic goals.
Take Note of Current Needs  — and Future Goals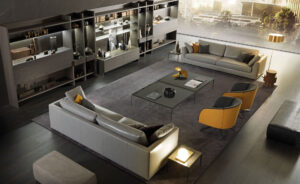 MisuraEmme closets and furniture
Accommodating needs is always an essential part of design planning, but it's even more important when entering a new stage of life that comes with changing, and sometimes uncertain, needs. Older generations have lived in expansive homes that might have worked well for their growing families but have now become a burden to care for, inspiring them to downsize into a smaller home or condo. How do you take the ease and comfort of living in a 4,000-square-foot home and replicate it in a space that's less than half that size? 
The answer starts with how a lifestyle is evolving. Is space for entertaining important? Is an office space a necessity? Which spaces did and did not work in the last home? In a nutshell, ensuring the ability to live a happy life while also anticipating preparation for the long-term.. How might needs, mobility, and lifestyle change in the next 5,10, or 20 years? Don't design just for the present day but also for the future. 
Integrate Forward-thinking Home Technologies.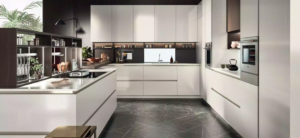 Innovative technologies can make all of our lives simpler, but it's especially true for the aging population. For the kitchen, a refrigerator that tracks product inventory, making personal or delegated grocery shopping seamless. The Snaidero e_Wall system for another example, is a customizable open-storage unit that makes both organization effortless, while offering options like a magnetic backsplash that keeps cooking accessories easily accessible. Snaidero's System M countertops for the e_Wall system can be accessorized to accommodate everything from kitchenware and decor pieces to iPad holders and integrated chargers, eliminating the clutter of cords. Cabinets can also incorporate auto-touch drawers that open even with a small amount of pressure.
Creating a spa-like bathroom, even in a smaller home, undoubtedly adds to quality of life. Include shower and tub technologies offering aroma and light therapy, and make sure at least one bathroom has a walk-in shower that can continue to be accessible with aging needs.  Consider ergonomics in terms of structure, materials, and fixtures. Counters can be raised a few inches for easier face washing, and sturdy counters offer a stabilizing surface. 
Make Essential Design and Accessibility Decisions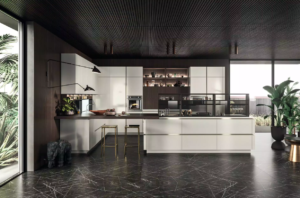 Accessibility should be the primary goal in terms of all design and appliance decisions. Older adults can no longer reach as high, bend as low, or maintain the level of physical activity they once did. Countertops can be designed to be lowered or raised depending on preference. 
In the kitchen, be mindful of appliance accessibility (for example, keep ovens off the floor and install touchless faucets), as well as the accessibility of storage solutions. Everything should be kept within a comfortable reach. Think functionality with personalization — brands such as Snaidero and Plain & Fancy provide a high level of customization options for kitchens that not only meet utilitarian needs, but also complement the aesthetic of their home.
Embrace Classic Design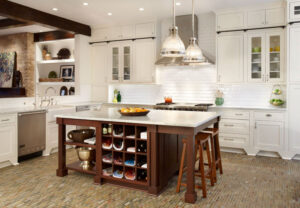 While trends are fun to play with, they can be challenging to keep up with, especially after a certain age. Adopting classic design with fresh, easily switchable layers is the key to remaining relevant and timeless when designing for aging in place. Not only will a timeless aesthetic prevent the need for constant renovations and updates in the future, but also allows  for seamless incorporation of practical elements that will aid in aging in place. 
Plain & Fancy's perfect blend of traditional and contemporary elements in customized cabinetry will endure aesthetically with the client, while MisuraEmme's closet systems offer customizable and accessible storage spaces. These products never sacrifice style or beauty while offering modularity and functionality, ultimately creating a home that is truly ageless. 
Inspired to turn your house into a "lifelong home"? Work with us to learn more about tailoring options to your specific needs and preferences.