210 Design House is a one-stop resource for the best in design, offering an impressive range of luxury products and design services. It's our goal to help our clients, whether they're individual homeowners or interior designers sourcing for multiple clients, access our partner brands seamlessly — whether they're interested in redoing a full kitchen with Snaidero's modern cabinetry or simply adding one of Glas Italia's show-stopping glass side tables to their existing space. 
So what does the process of working with 210 Design House for a home design project look like? This month, Senior Designer Alexander Adducci talks about the who, what, and how of working with 210 Design House to create your dream home interiors.
How are clients typically introduced to 210 Design House? 
Alexander Adducci: Most clients discover us in one of two ways: through an online search that directs them to our kitchen cabinetry, furniture, or other luxury products, or through an interior designer they're working with, who brings them in as a client. Additionally, some people may search up one of our brands — Snaidero or Wall&decò come to mind — and then find that those brands direct them to 210 as a local resource and partner. No matter how they discover us, everyone is welcome to come visit  the showroom without an appointment, and they'll find a designer ready to answer any questions they have about our products, their project, and home design in general.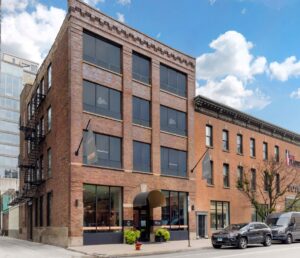 210 Design House, 210 W Illinois Street
How does a client begin to work with 210 to purchase a new kitchen, closet, or bathroom or a single piece of furniture? 
AA: If a client wants a full design consultation for a large project, such as a kitchen, closet remodel or a bathroom, we first start a dialogue about what the client wants and needs, either directly with the homeowner or through the designer they're working with. Once we determine what they're looking for, we'll prepare a detailed presentation for their benefit. If they are aligned with the design direction, we request a retainer that will be applied to the project, followed by next steps including the technicalities of the installation process in collaboration with designers, contractors, millworkers, etc.
The process of purchasing a single product is much simpler. Clients are welcome to walk in and browse the pieces on display, as well as request assistance with products that are not currently on display in the showroom but can be easily and quickly ordered through our brand partners.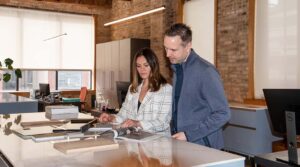 Senior Director Alexander Adducci with Director of Projects, Erika Klimenko
Will 210 help me find home products that aren't carried in the showroom? 
AA: At 210, we are all trained designers, but we do not offer full-service interior design. We do, however, enjoy working with interior designers and are always happy to consult on products that we do not normally offer in the showroom, such as lighting, countertops, and flooring. We enjoy recommending materials/products that complement those found at 210, but our expertise is focused on the brands we represent. 
Does 210 handle the installation process? 
AA: We have strong relationships with subcontractors who are well-versed in our product line. While we do not directly employ them, we usually make recommendations to clients and are happy to work with them during the installation process.
What problems does 210 solve for its clients that are atypical of a design showroom?
AA: We offer a wide range of highly customizable product lines. We work with an Italian millwork company that can make almost anything according to the client's budget and timeline. They recently assisted us in the installation of a stunning wet bar for our showroom's lower level, complete with custom bronze handles and metal wrapped doors — and reeded wood front in a warm, smoky oak color. 
It was the first time we asked for something like this, and we were blown away! It definitely has us excited to connect clients for more customized millwork projects.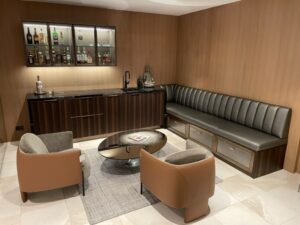 Wet bar at 210 Design House
What are 210's typical lead times from ordering to delivery and installation?
AA: Since the majority of our products come from Italy, we must usually account for ocean transit time. Snaidero kitchens typically take 18 to 20 weeks to complete, whereas a Glas Italia side table may take as little as two weeks. Plain & Fancy, our more traditional kitchen brand, is currently shipping installs in 10 to 12 weeks, which is very exciting for us.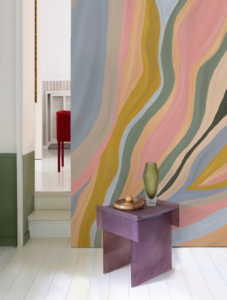 SIMOON crystal coffee table designed by Patricia Urquiola for Glas Italia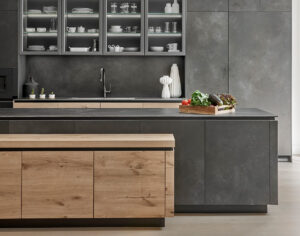 Snaidero, at 210 Design House
What is your favorite part of working with a new client at 210? 
AA: We work with our clients from conception to installation, so it's always exciting to see how those first meetings — when we're brainstorming and planning — come to life in a finished design. It's rewarding as a designer, and I love to see how thrilling it is for our clients.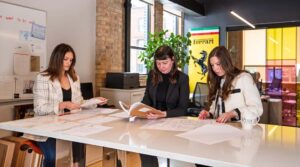 What are some exciting things showroom visitors can look forward to this summer?
AA: We're all very excited about the Vitage and Noorth bath lines from Milldue Edition. We've installed hundreds of kitchens at 210, and bathrooms feel like a natural evolution for us — and one our clients have been wanting for some time. We're installing two new luxe displays featuring vanities from both Milldue lines in our showroom this month, and I think everyone is going to be blown away by their quality and beauty. The primary bathroom will also include Wall&decò's new WET System waterproof wallpaper in their "Imaginary Paradise"design — a very tropical British colonial-looking style!
Upcoming bathroom vanity + bathroom display at 210 Design House
Whether you're contemplating a new kitchen or an elevated closet design for your Chicago home — or visiting the city this month for NeoCon 2023 (we're located just a few blocks from our former home at the Merchandise Mart), we hope you'll stop by to learn more about 210's innovative, constantly evolving, luxury product lines. At 210, Adducci says, "you're going to see products that start a conversation."