Creating a home that not only appeals to its inhabitants but enhances their lives is a multi-faceted and complex endeavor. Enter the trend of sensory design. Recently, the design industry has been touting the buzz-phrase, which involves creating spaces that carefully consider the five senses of sight, sound, touch, smell, and taste, as a concrete way to accomplish a lofty goal: designing spaces that engage different areas of the brain and nervous system for an immersive and elevated experience. 
By appealing to all of the senses, sensory design, which often uses natural and tactile materials, ergonomic furniture, thoughtful lighting, and more, can amplify homeowner engagement, bringing both greater joy and increased calm to hectic lives. "Appealing to the senses evokes positive emotions for the client and brings the design together in a peaceful and organized way," says 210 Design House Project Manager Lisa Wagner. 
While design most naturally lends itself to creating visual appeal, 210 Senior Designer Alexander Adducci says sensory design can start with prioritizing any of the senses. "Determining and understanding which of the senses a client responds to will ultimately lead to a space specifically tailored to them." Does a sweet-smelling space bring you joy, or is it access to music that elevates your mood? Perhaps the texture of a fabric speaks to you, or the seamlessness of a hard material brings you a feeling of peace? All would be impactful starting points on a sensory design journey. 
Keep reading to find out how 210 is incorporating all five of the senses into projects.
Tactile Experiences in Kitchen and Bath Spaces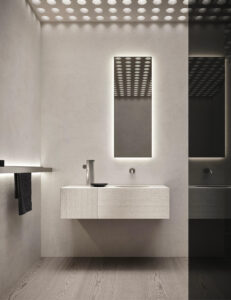 Azuco, by Noorth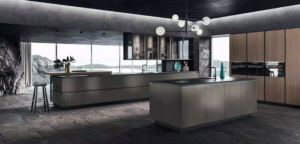 Look, by Snaidero
Bringing textures into traditionally flat spaces like kitchens and baths can enhance the sense of touch. Radoha points to bath line Noorth's new Azuco collection, which features textured marble cabinet fronts, while Adducci is excited about Snaidero's cabinet-front options, including the Elementi in a powder-coated aluminum finish that gives a pleasing-to-the-touch diamond effect and the Bronze, a braided-finish glass that looks almost like woven fabric. For those clients interested in enhancing the sense of touch in other parts of the home, 210 partner Arflex offers a range of textiles and leathers, each providing a different tactile experience.
Seamless Materials and Bold Designs Delight the Eye
While adding visual interest and appeal to homes might be the most obvious use of sensory design, how to do so is constantly evolving at 210. For example, Milldue's Noorth and Vitage have recently introduced integrated sinks into their vanity designs. "Having the same material for the countertops and sink catches the eye and gives an overall cleaner look," Radoha says. Wall&decò's innovative wallcoverings are also constantly surprising and inspiring the 210 staff. Adducci is partial to the line's Bronzage finish, which has a crystalline, glass-like surface finish, giving it a metallic effect that changes with the light.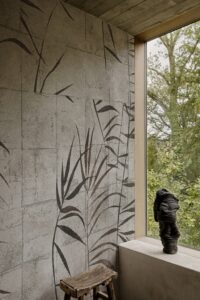 Contemporary Wallpaper by Wall&decò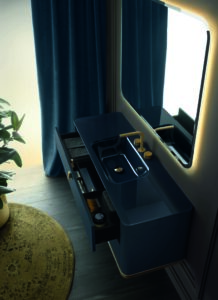 Tailor by Vitage
The Healing Element of Sound
Sounds, whether intentional or not, constantly surround us at home — whether it's a birdsong outside an open window or the noise of passing traffic multiple stories below a high-rise condo. Creating intentionality around those sounds can have a dramatic effect on mood and the enjoyment of a space, a fact that homeowners are increasingly discovering and presenting to 210. "We are getting a lot of requests for sound systems," Radoha says. "These can be incorporated throughout the home in many ways. They can be recessed into the ceiling, or it can be as simple as having a sound system sitting on a countertop." For a project at One Bennett Park, 210 incorporated speakers into two cabinets used for an entertainment center, working with a sound specialist to ensure the installation led to outstanding sound quality.
Bringing Mood-Enhancing Scents Home 
Having a space that smells great not only enhances your frame of mind but also makes your space feel clean and cozy, Radoha says. While the hospitality industry has long learned that diffusing scent throughout a space can enhance the guest experience, residential spaces are now starting following suit, buying into the trend of "scent styling." Not ready to commit to a signature scent for your home? Rotate candles, diffusers, or fragrant plants like lavender and rosemary to see how various fragrances affect you, Adducci says. 
A Better Sense of Taste Through 210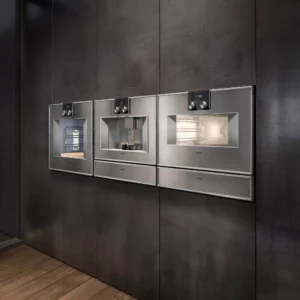 Combi-steam oven by Gaggenau
Can good design actually make things more delicious? Absolutely, says the 210 staff.  Cutting-edge appliances, like a combi-steam oven from Gaggenau, can offer more efficient, healthier, and more flavorful cooking options, while incorporating certain colors into a kitchen can stimulate the appetite. "According to color theory, using red or orange in a kitchen or dining room can enhance the appetite," Wagner says. "Snaidero has a wide range of lacquers in those colors." More directly, 210 is tempting clients' taste buds at its showroom events. "Appliances cannot do it alone!" Adducci says: "The best way to experience the sense of taste is being present during one of the many chef events we host throughout the year."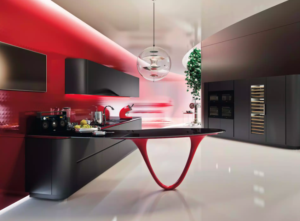 Ola, by Snaidero
Does sensory design peak your curiosity? Wondering how you can incorporate it into your own space? Stop by the 210 showroom soon to learn more about how our products and designs can enhance all of your senses — and therefore, your overall happiness and wellbeing at home.