Call it the Super Bowl of interiors, or the Olympics for design. Salone del Mobile, the anchor of Milan Design Week (April 18-23), is the largest and most prestigious furniture fair in the world, attracting some 300,000 designers, architects, and designophiles from around the globe, all of whom want a first look at the latest trends and innovations in interior design. Featuring everything from sofas and lighting to kitchen cabinetry and closet designs, all of which push the boundaries of style and functionality, Salone's "novelties" (as the Italians coin the fair's product launches) influence designers in every corner of the globe and eventually, in some form or another, make their way into our own homes.
210 Design House has a special connection with Salone, as the majority of our esteemed brand partners are based in Italy. We are constantly amazed by their innovative creations and stellar launches at Salone (which we are proud to offer to our clients!). "It was incredibly exciting to see what our partners presented at Salone," said 210 President Rama Dandamudi. "All eyes were on Milan, and they were inspired to take their already impressive designs to the next level, with additional surprises."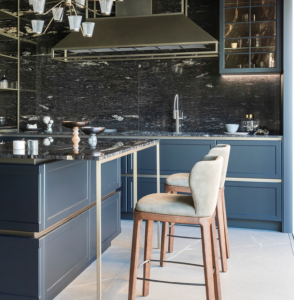 Frame, by Snaidero
Indeed, we watched in awe as our partners showcased some breathtaking new products, most of which we are excited to work with. From Snaidero's stunning new micalised cabinetry color to the introduction of Wall&decò's elegant, textured, and three-dimensional Essential Wallpaper Collection, Salone inspired a wealth of beauty and creativity. Here's just a sampling of what 210's brand partners presented to the design world at Salone.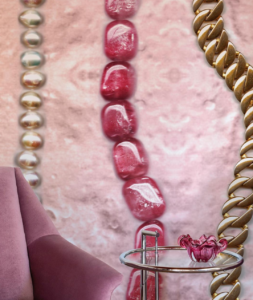 Donatella Pellini presents  "WITHIN WITHOUT" By Patrick Tuttofuoco: an art project on wallpaper as part of the collection Wall&decò with CARTEdition
Arflex
In a gorgeous, sumptuous display of modern furnishings, beautifully spotlit in a background of warm terra cotta, Arflex showed off its newest collection of sofas, armchairs, and more. A standout: A modernized fabrication of Arflex's classic seat system Strips, originally designed by Cini Boeri 1968.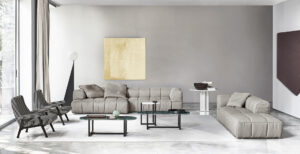 Strips, by Arflex
Snaidero
Snaidero opened its flagship store in Milan with a fully renovated display, just for Salone. Notably, artist Filippo Bello transformed the luxury brand's kitchen materials — including the new European Walnut wood finish combined with aluminum honeycomb panels and the brand's new micalised hue, Night Blue  — into artistic creations inspired by Snadiero's Elementi, Ola, Way, Frame and Link kitchens.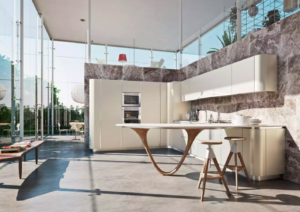 Ola, by Snaidero
MisuraEmme
MisuraEmme welcomed Salone's visitors with an exhibit featuring its new "night area," a beautiful display of the brand's Virgin bed, designed by Mauro Lipparini, Eros nightstands, and Palo Alto Free walk-in closet.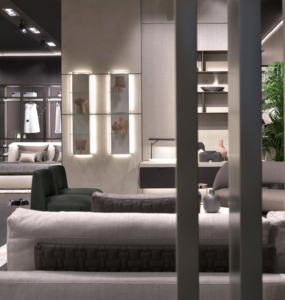 MisuraEmme, at Salone del Mobile 2023
Glas Italia 
Unexpected beauty and intrigue were found at Glas Italia's Salone exhibition. The Drift storage units, designed by Nendo, offered a slightly off-kilter take on traditional storage, while designer Patricia Urquiola's CC coffee tables provided colorful visual interest in shades green, pink, orange, and blue, all delightfully combined into solid pieces.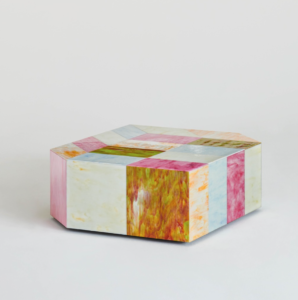 CC coffee tables, designed by Patricia Urquiola for Glas Italia
Wall&decò
With the theme of "Contemporary Wonder," Wall&decò introduced Salone to a wallpaper collection through an immersive display designed to delight. Guests walked through the installation to experience the brand's new Essential Wallpaper Collection, four elegant, textured, and three-dimensional designs "to be touched by the eyes and listened to by the hands." Designs Fukuro and Hoshy were created by architectural designer Studiopepe, and Salina and Limo come from product designer Zanellato/Bortotto, who was inspired by the solid grass area intermixed with water in the Italian region of Cervia.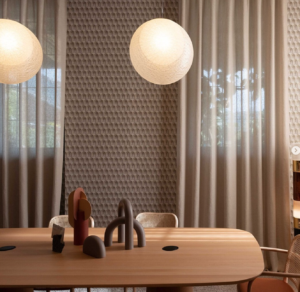 TERRA Design by Studiopepe; Featuring wallpapers: Fukuro & Hoshi from the new Essential Wallpaper Collection 2023 by Wall&decò
Milldue Edition: Noorth and Vitage
Both of Milldue's luxury bath collections, Noorth and Vitage, presented at Salone, with Vitage showcasing its Dandy collection, characterized by modern, elegant prismatic forms. The three dimensional-diamond shapes are echoed in the stunning rose-gold handle design.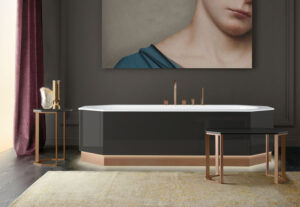 Dandy, by Vitage
Thanks to Salone del Mobile's wealth of innovative and visually stunning designs, we're more excited than ever about where the design world is headed. Visit us at 210 Design House to learn more about the best in design — from Italy and beyond — and how you can beautifully and seamlessly incorporate it into your home.