Creating 210 Design House has been a decades-long journey. Though our River North showroom opened just five years ago, the path to getting there began almost 30 years earlier — first with the opening of a Clybourn Avenue kitchen cabinet shop bearing our president's name and then through multiple homes in the Merchandise Mart. It's been a long and exciting adventure, which culminates this month with all of our 210 brands living under one roof.
While transitioning the Snaidero showroom out of the Merchandise Mart was a bittersweet experience (the Mart will forever be part of our family), the advantages of truly being a one-stop resource for our clients and a fully integrated team for our staff are vast and impactful.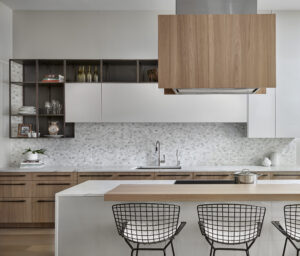 Snaidero, at 210 Design House
"It's a collective approach," says 210 president Rama Dandamudi. "Being in one building allows our customers to see the entirety of what we can provide for their home — kitchens, bathrooms, closets, furniture, with more coming — and means that our design team better understands every aspect of what we have to offer." 
210 business manager Eleanor Leichenko, who joined the 210 team more than a decade ago, agrees. "As we saw our clients' aesthetics and needs evolving, we wanted to evolve along with them and provide more of a turnkey solution," she says. "Most clients and designers come in needing more than just kitchens, and it's been great to have more in our design arsenal. Why not have the opportunity to offer them more?"
From Snaidero to a Growing Collection of Brands
Before moving to 210, Snaidero Chicago started as a showroom in the Mart, offering our first luxury Italian line of contemporary cabinetry. The brand undeniably filled a gap in the marketplace, but our team quickly realized that void was much wider than just cabinets. So we began strategically adding to our product assortment, always following our clients' lead.
Snaidero's past showroom at The Mart
Plain & Fancy gave our customers a more traditional/transitional cabinet style. Next, we discovered MisuraEmme, another Italian line that takes closet design to the next level. "Most closets are unappealing, and they all look the same," says 210 project manager Lisa Wagner, who celebrates her 20th anniversary with 210 next year. "MisuraEmme offers a variety of finishes and styles that meets each client's design needs." Project manager Brandi Carlson agrees: "I enjoy seeing how MisuraEmme's closets can be considered an actual design element rather than a space hidden behind doors."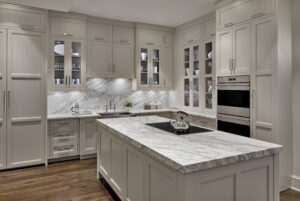 Plain&Fancy at 210 Design House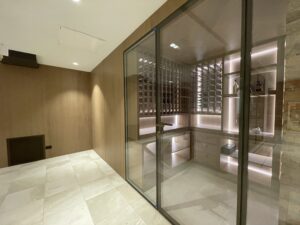 MisuraEmme, at 210 Design House
As clients asked for even more interior elements, 210 continued to look to Italian designers to answer those design quandaries. Arflex's furniture, Glas Italia's glass doors and creative furnishings and decor, Wall&decò's innovative wallcoverings, and Milldue's show-stopping bath collections for Noorth and Vitage now round out 210 Design House's cutting-edge collection. "All the brands we carry are constantly changing and evolving to reflect the current wants and needs of our clients," says design assistant Grace Radoha, the newest addition to the 210 team.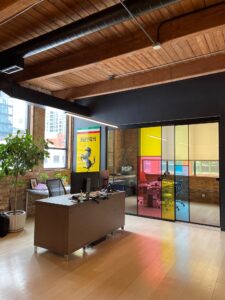 Glas Italia, at 210 Design House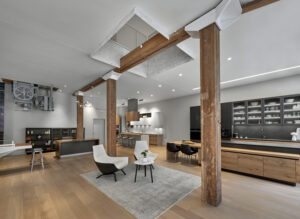 Various brands, including Arflex at 210 Design House
210's Continuing Evolution
The 210 story is one of constant growth, and our next chapter is already being written. "As we integrate our team, watch our people grow, and track what our clients are asking us for, we'll keep evolving," Dandamudi says. "We're always looking for holes in our collection and adding products that fit into the 210 world from both a financial and aesthetic perspective, whether that means bringing in additional cabinetry, furniture, or wallpaper brands; introducing a lighting line; or even opening additional showrooms in different cities."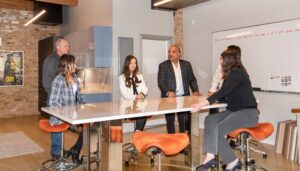 210 Design House team
The goal is to both continue and build on 210 Design House's reputation as a seamless design resource. "You don't have to seek out a millworker, a closet resource, and a kitchen source. We're all here," says Leichenko. Adds Carlson: "As we evolve as a design house, we will be able to elevate clients' spaces in ways that they might not have thought possible — and at one point, they probably weren't."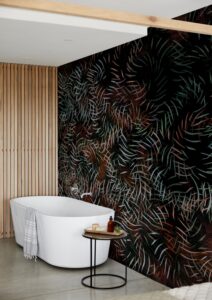 Contemporary Wallpaper, from Wall&decò
Visit the 210 Design House showroom soon to see how we've grown — and to learn how we can help your spaces evolve just as beautifully.