At 210 Design House, our staff always has one ultimate goal: to make our clients' lives at home better and more beautiful. To accomplish that, we find the products and designs that speak to them and pride ourselves on being a one-stop resource for residential design. "Our curated collection allows for the entire home to be outfitted without a designer or homeowner having to source from a plethora of vendors," says senior designer Alexander Adducci.
While we enjoy making our clients' design dreams a reality, we do have some preferences of our own and occasionally find favorites among our luxury lines of kitchen, bath, closet, furniture, and decor products. Keep reading for the 210 product and brand picks that our staff members are currently coveting.
Kitchens That Never Go Out of Style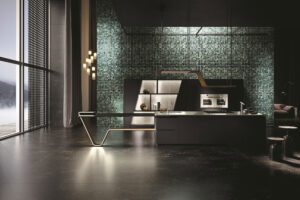 Vision, by Snaidero
210 has been working with contemporary Italian cabinetry brand Snaidero for more than 25 years, so it's no surprise that it's close to their hearts. "I have always and will always love Snaidero," says 210's business manager Eleanor Leichenko. "As I 'live' with the products on a daily basis at 210 and see what clients and designers are drawn to, I've learned how Snaidero's products are meant to wow, but also be functional."
Staff members named both Snaidero's modern, streamlined Way and Vision lines as personal favorites, with Adducci calling out the lines' potential for "metal and glass front options for a modern, industrial design approach."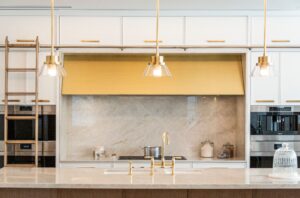 Plain & Fancy Cabinetry, at 210 Design House
The more traditional cabinetry designs of Plain & Fancy are top kitchen picks for project manager Brandi Carlson. "I'm someone who prefers a more traditional/transitional style for my home, and Plain & Fancy's Millbrook II door style has become one of my favorites, particularly in the Rift Cut white oak finish.
Bold and Personalized Bathroom Designs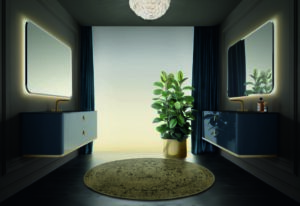 Tailor, by Vitage
With bathrooms increasingly being viewed as personal sanctuaries, design choices have become bolder, specifically catering to the varying needs of homeowners. According to 210 project manager Brandi Carlson, "people are realizing they are an area where you can have more fun and add some personality to the space." A staff go-to for adding that personality is undoubtedly the Noorth and Vitage collections from Italian brand Milldue.
"The Vitage collection is really one of a kind," Carlson says. "We haven't seen anything like it in the design industry. It has a more elegant and elevated feel than typical vanities, and it can really take a bathroom design to the next level." Adducci adds: "Vitage has endless design application."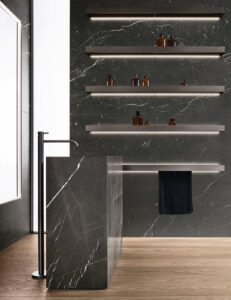 Touch, by Noorth
The company's Noorth collection has an equal number of fans at 210. Joel Cebrero, 210's Snaidero North America coordinator, calls the brand's vanities "ahead of the curve" thanks to their nontraditional, free-standing designs. Noorth's Touch vanity is a favorite of design assistant Grace Radoha: "It's a massive marble vanity that is not only functional, but it also acts as a statement art piece in your home. No one will have anything like it!"
Closet Designs Combine Functionality and Clean-Lined Beauty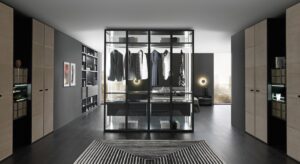 Palo Alto, by MisuraEmme
"Our clients are looking for elements that are usable, interchangeable — they want options," says Leichenko. This is especially true for closets, and MisuraEmme's Palo Alto closet system provides just the ultimate in adaptability, as evidenced by its placement in the 210 showroom. "We were able to use the Palo Alto as both a closet and as a kitchen pantry, which goes to show how much creativity and multi-use applications we can achieve with our brands." 
"I would use the Palo Alto as a feature wall in a bedroom or an office," says Radoha, calling out the system's floating shelves effect. "The engineering aspect of this closet, which is installed floor to ceiling without special support, is very impressive." 
"The functionality of the Palo Alto systems is what really appeals to me," adds Adducci. "I am someone who likes things to be very clean, neat, and organized, and that is easily achieved through these systems."
Home Decor That Add a Sense of Wonder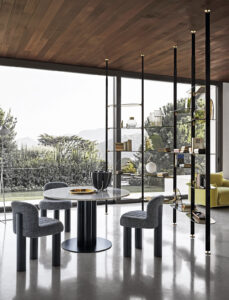 Botolo chair, by Arflex
The staff's favorite home decor items — from Arflex, Glas Italia, and Wall&déco — have one common element: they all add surprise and wonder to a home, both elevating and adding visual interest to functional interior spaces. 
The Arflex Botolo chair "looks like a stationary chair, but actually has hidden wheels, so it rolls," Radoha says. "It's perfect for a unique office or dining chair. They would look beautiful around a round table, playing with the organic shape of the chair."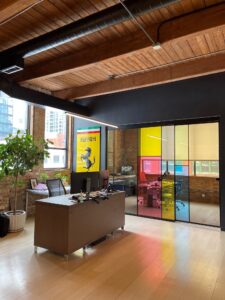 Sliding Door at 210 Design House, by Glas Italia
Similarly, Glas Italia takes sliding doors to a different level with its designer glass versions. "They transform the standard sliding door into a focal point of the room, adding fun and allowing for privacy in an elegant manner," Cebrero says. 
Elevating a home's most common functional item — its walls — through beautiful design is also the mission of Wall&déco. "We are seeing more people select wallpaper for areas like powder rooms, laundry rooms, and bedrooms," Carlson says. "Whether it's a bold pattern or a subtle texture, wallpaper is an easy way to bring the design of a space to the next level, and Wall&déco offers so many options for designs, colors, and textures." 
Wondering if our staff favorite products will also be yours? Visit the 210 Design House showroom to learn more about our most-admired designs and how you can incorporate them into your space.