The benefits of spending time in nature are vast and well-proven. Countless studies have shown that both surrounding ourselves in nature and simply feeling connected to the outside world (without even going outdoors) is linked to improved cognition, mood, mental health, and emotional well-being. So it's no surprise that bringing nature-inspired elements like wood and natural stone into our home environments is appealing. 
Today's natural products and designs take it even further, incorporating the latest and greatest technology in simplistic, seamless ways that not only celebrate the natural world, but actually enhance our ability to incorporate it into our spaces. The result: spaces that emerge as wellness experiences, designed to enhance homeowners' lives in organic and new ways. Here's how 210 Design House is showcasing the intersection of nature and technology in our designs today.
Kitchens Get New High-Tech, Sustainable Elements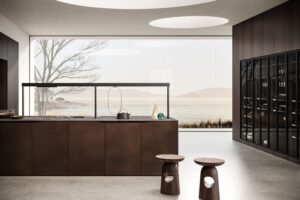 Elementi, by Snaidero
Modern kitchens consistently merge technology and back-to-nature elements, not just for functionality, but to create an overall elevated user experience. At 210 Design House, we're merging natural and high-tech elements in kitchens in multiple ways. 
Eco-friendly induction cooking has also become a big trend and can now be incorporated directly into stone surfaces. Not only does this cooking method conserve natural resources and energy, but it can be built directly into a countertop, providing a smooth, natural-stone surface that you simply turn on, heat, and cook on directly. 
The Elementi cabinet system by Snaidero is another excellent example of the intersection of nature and technology. The designs incorporate four natural elements — stone (ceramic), glass, aluminum, and wood — used in monolithic volumes. The cabinets are created in a very high-tech process, but they look much like the inspiration points you'd find in nature: weathered stone, wood, and patterns of natural light.
Bathrooms Mix Natural and Contemporary Elements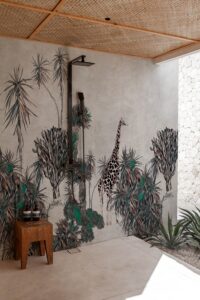 Kiss the Sky, WET system, by Wall&déco
Bathrooms are at the forefront of the wellness-in-design movement, combining nature and tech to create personal sanctuaries. Wall&déco's new WET wallpaper system is a beautiful illustration. Many of the designs are nature inspired — with high-end technology to complement them! The wallpaper is completely waterproof, eliminating the need to design a separate, water-resistant area of the bath, and can be installed over existing tile – removing the labor-intensive process of tearing out tilework.
Another one of our favorite new high-tech, nature-inspired bathroom products is the Touch vanity by noorth, milldue edition. All of Milldue S.p.A's new vanities are impressive, integrating countertops and sinks in a lightweight design that makes them easy to maintain and offers flexible design possibilities. The Touch vanity appears to be a solid slab of marble, but  actually has working drawers that glide out, creating a seamless piece and a Zen-like experience.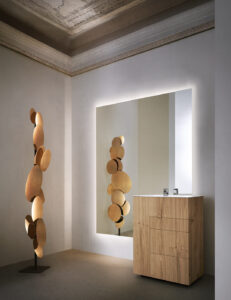 Touch vanity, by noorth milldue edition
Closets Use Tech to Enhance User Experience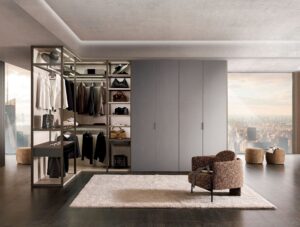 Palo Alto Free, by MisuraEmme
As in every other part of the home, incorporating natural woods into your closet adds a sense of calm. MisuraEmme's Palo Alto Free system makes creating a beautiful and functional closet space incredibly easy. The lightness of the wardrobe concept allows for a unique structure, in which doors are directly supported by floor-to-ceiling posts — not the wall! This allows the system to be installed against uneven surfaces, lessening the usable space. 
In addition, eco-friendly LED lights allow closets to be illuminated in new ways. Because they're ultra cool, they can be installed closer to the closet and its contents. We have installed LEDs vertically on corner posts – angled at 45 degrees – allowing the entire closet to be viewed. This layer of visibility lets the user better see what they already own, eliminating waste.
Glass and Wood Add Beauty to Home Decor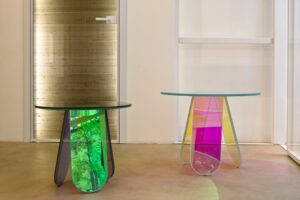 Shimmer tavoli, by Glas Italia
On a smaller scale, homeowners can integrate tech-advanced, nature-inspired elements into home decor. Glas Italia and MisuraEmme do just that effortlessly, through products that inherently combine naturally sourced products with technologically advanced processes. 
Glas Italia creates beautiful furnishings ranging from mirrors and room partitions to tables and stools with glass, which contrary to common belief, is found in many forms in nature. Their products add vitality and beauty to any interior, which is always a recipe for increased happiness.
MisuraEmme's Stick — an evocative and refined divider consisting of ground-to-ceiling profiles in aluminum with wooden cladding — is another example of the beautiful integration of natural materials with tech. The soothing effect is reminiscent of a bamboo field, which you can now experience first-hand in our Chicago showroom.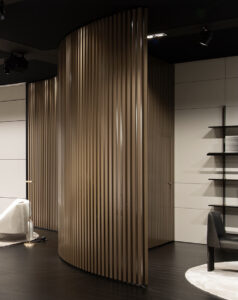 Stick, by MisuraEmme
Visit the 210 Design House showroom to learn more about how to incorporate nature-inspired, high-tech products into your space. Let us help turn your home into a modern-day wellness retreat.