The holiday season is upon us, a time full of merriment, festivities, parties, and cheer, all of which come with some very long, albeit rewarding, to-do lists. Item number one: add some extra sparkle and shine to the home by amping up the luxury factor in essential entertaining spaces to create both joy and visual interest to your December gatherings. It may sound daunting, but it doesn't have to be. 
Luxury is the quickest path to holiday bliss when it comes to decorating and entertaining, and by making some small, yet seasonally appropriate changes, homeowners can feel prepared for any type of party. High-end products from 210 Design House offer ample opportunity to increase the wow factor of homes for the holiday season while being versatile enough to remain in a home all year round. Need more inspiration? Keep reading for our top tips to create luxury homes fit for entertaining during the holidays — and all year long.
Simple yet effective touches for kitchen and bar areas
AR1 bar trolley, by MisuraEmme
Holiday entertaining requires festive dish and beverage spreads as well as equally appealing ways to prep and serve both. Along with leveled-up serving pieces and dishes, invest in assorted cocktail shakers and glassware. The key is to pair specialty cocktails (every party needs one) with appropriate glasses and appetizers as well as appetizers and entrees with appropriately sized platters and plates. Consider Snaidero's Passepartout cutting board — made of highly prized Canaletto Walnut wood — which beautifully transforms from a functional cooking tool to a serving tray for charcuterie and various appetizers. In the bar area, stock MisuraEmme's AR1 historic, statement-making bar trolley designed by Alfred Roth with spirits, interesting coasters, and a variety of bitters.
Adding a splash of color and texture to powder rooms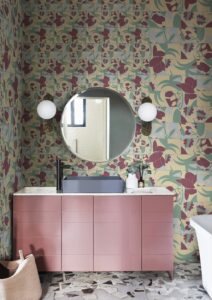 WET SYSTEM 2022 collection, by Wall&decò
Don't overlook this essential room for entertaining. Swap out towels and linens for items that feel special and intentional, and consider changing existing light fixtures for ones that feel more exciting for the season. A beautiful, conversation-starting mirror from Glas Italia will provide functionality to a space that requires it for entertaining, but the company's unique artistry will also add appeal to the space throughout the year. Additionally, Wall&decò's latest WET SYSTEM Wallpaper collection guarantees an added element of interest in the powder room. On a larger scale, luxurious bath products from Noorth, Milldue Edition will make guests feel pampered, ranging from storage units and countertops to lamps and accessories.
Creating dynamic areas for gathering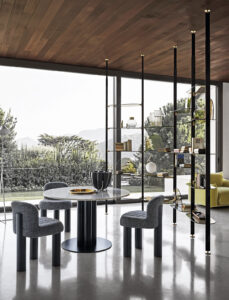 Efficiency is the key to making entertainment areas work for holiday gatherings of friends and family. Include plenty of seating options to help guests feel both welcome and comfortable. Add extra, flexible seating options, like Arflex's upholstered Penta pouf or Botola chair, to allow partygoers to make their own seating groups and encourage camaraderie and conversation. In addition, furniture designed to be separated — like the Specchio di Venere table from Glas Italia — offers flexibility for entertaining multiple groups. In all your gathering spaces, add luxe decorative pillows and throw blankets for coziness, and also consider changing out draperies and lighting concepts. Both will impress your guests and add appeal to the home throughout the holiday season and beyond. 
Visit our Chicago showroom to learn more about how to incorporate our newest luxury products into your home this season and into the New Year.