New year, new designs! If a revamped space is one of your 2023 goals, 210 Design House is here to help. The latest products from our incredible vendors, including Snaidero, MisuraEmme, Wall&déco — and our newest partnership with Milldue S.p.A — provide limitless opportunities to add beautiful, cutting-edge, and customizable products and design moments to your space.
Whether you envision a remodeled kitchen, dream of a luxurious new bathroom, or want to add some stylish accessories to your existing rooms, we have stunning, statement-making options that will both update your home and delight you for years to come. Keep reading to learn more about the latest and greatest from 210 Design House. 
New Textures, Finishes, and Shapes in Kitchen Design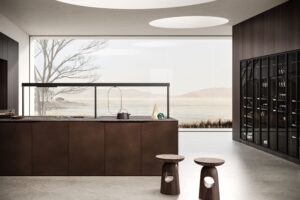 Elementi, by Snaidero
Snaidero is upping its cabinet game again with Elementi, the company's new expression of minimalist style, emphasizing innovative materials. The collection's ceramic surfaces are combined with a new, diamond-coated aluminum finish and a chic cut-out door that provides a highly functional solution. The collection also includes Groove, a new framed door, which consists of a handle integrated into the unique inclined shape of the door itself.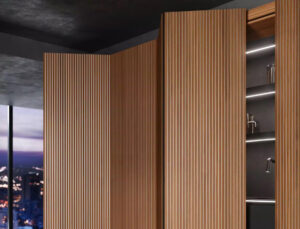 Sipario collection, by Snaidero
Also new for 2023, Snaidero offers a ribbed aluminum-walnut finish, full-height cabinet doors and pantries with its Sipario collection, and some fantastic visually textured glass that's smooth to the touch. 
Another new texture coming to the kitchen space, Plain & Fancy has introduced the Alexandria cabinet doors — beautiful reeded doors available in maple and walnut. Finally, proving how versatile and customizable our lines are, we've created an enviable pantry space in our showroom using the new MisuraEmme Palo Alto closet system, a sleek structure featuring floor-to-ceiling doors.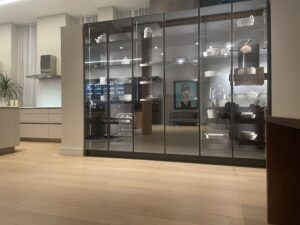 Palo Alto, by MisuraEmme
Shower-Friendly Wallpaper and Chic Vanities in Bathroom Design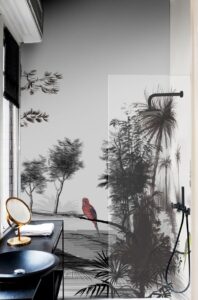 Imaginary Paradise design, WET system, by Wall&déco
Wall&déco's incredible new WET wallpaper system — wallpaper you can install in any humid environments — has completely opened up the ways we can add style to bathrooms. We are in the works of completing our first-ever showroom shower display, showcasing the WET wallpaper in a specially customized Imaginary Paradise design. La Gabbia and Operosa are recent client favorites from the collection, but the incredible design options are far from limited!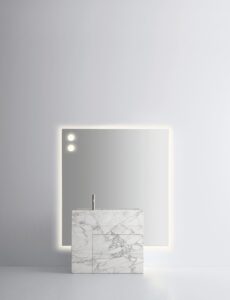 Touch, noorth line by Milldue
In that same bathroom display, Milldue's newest vanities collection, from the company's noorth and Vitage lines, adds a modern, chic touch. Curated by visionary architects and designers, the company's latest collections feature an exclusive range of materials, including melamine, marble, matte, metallic, glossy lacquers, clays, and wood veneers.
Some standouts include Fjord, a high-performance modular system based on a metal frame, and Touch — featuring a vanity made entirely of marble. In addition, Touch also consists of a wide selection of elements and accessories made with unique and environmentally friendly materials. 
Unique Glass Designs and Charcuterie Gold in Home Furnishings & Decor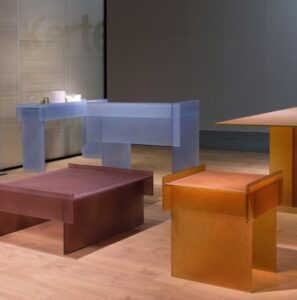 Simoon, by Glas Italia
Glas Italia is introducing and relaunching some extraordinary pieces for the home. The Simoon collection of tables is simply magnificent. Designed by Patricia Urquiola, the glass tables come in breathtaking shades of amethyst, light blue, and topaz. In addition, the brand is relaunching its first-ever collection of mirrors, designed by Nando Vigo and introduced in 1974. The Andromeda collection features mirrors in various shapes and sizes, with a hanging system that allows them to be displayed in multiple ways!
Finally, we're very excited to bring in Snaidero Slicers to the showroom. The Italian brand is made in the same region as our Snaidero cabinets but is unrelated to the cabinet company, offering the most functional and beautiful prosciutto slicers we've ever seen. If you foresee a lot of charcuterie boards in your future, you have to see this product, a statement piece and kitchen tool in one.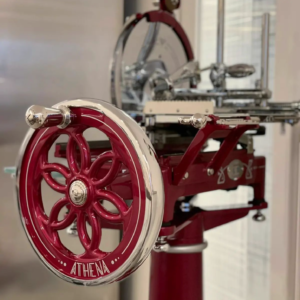 Snaidero Slicers, by Affettatrici Snaidero
We're looking forward to introducing you to our latest 210 Design House additions — with more soon to come — in the new year. Stop by our showroom to learn more about how we can make 2023 your greatest year yet.