The most exciting parts of design? Embracing creative freedom. Thinking beyond the norm. Challenging tradition to create something new and inspiring. Yes, installing custom kitchens, baths, and closets in largely traditional manners is a much-loved part of our work at 210 Design House, but we're especially proud of the projects that incorporate our products and design elements in unexpected ways. 
The first step: establishing ourselves as industry and product experts (after all, you have to know the rules to properly break them). Then, work with the highest-quality selection of products, each of which lend themselves to innovative, flexible applications. 
"We have this toolbox of products we can use to create what a homeowner wants," says Erika Klimenko, 210's Director of Projects. "We really can accommodate most requests given the materials and finishes that we have available, and we can engineer them to work well within any space."
Whether it's installing a closet system in a kitchen or living room, adding wallpaper to a bathroom, or using cabinetry as millwork — we're constantly thinking outside the design box to guide homeowners towards new ways to think about our products and to create customized and cohesive results in each project. 
Custom Cabinetry is All About Mixing it Up
Our work at The Residences at St. Regis Chicago — 210 had the incredible opportunity to design spaces for the property's 404 standard and 21 360-degree penthouse units — was an outstanding chance to put this practice into action. For one penthouse owner, we used Snaidero cabinetry to clad architectural columns and to create custom millwork on interior walls. For another client, we were able to extend MisuraEmme's closet systems into bathrooms and living rooms to create custom benches and entertainment centers. In yet another unit, our designers were able to seamlessly incorporate both Snaidero's high-gloss eucalyptus cabinet doors and MisuraEmme's alluring glass fronts
"It was really about creating cohesive designs throughout the homes that show the full capabilities of the products we carry. Everything is so complementary and flexible," Klimenko says.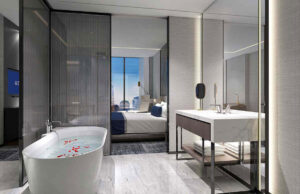 Bathrooms at St.Regis Chicago (Residences and Hotel)
Utilizing Products That Put a Fresh Spin on Tradition
While many of our products can be used in fresh and surprising ways, others were designed exactly for that purpose. Wall&decò's WET wallpaper, which we installed in a new showroom display this summer, inherently bucks design norms, allowing a traditional design element to enter previously unthinkable places. Completely waterproof, WET eliminates the need to design a separate, water-resistant area of the bath, and can be installed over existing tile — removing the labor- and time-intensive process of tearing out tilework.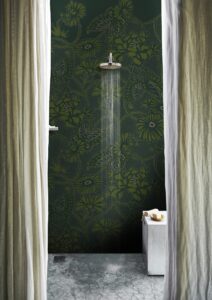 Wall&decò's WET wallpaper
"We would have never suggested putting wallpaper in a shower, bathroom, or even in a kitchen's working space before WET," Klimenko says. "This is a new technology that nobody really even knows exists yet and offers a high-design alternative to tile or stone. It was mainly designed for hospitality spaces, but we're excited to introduce it to a residential market. Once we show it, the market will get it."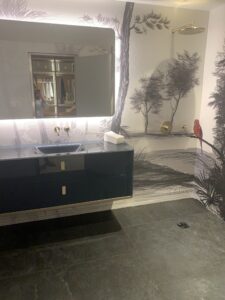 Bathroom Installation  at 210 Design House
That's the beauty of breaking the rules in design. Sometimes in the process, you're also able to define new, higher standards. Stop into the showroom for more information about how 210 can help you think outside of the design box when creating your dream interior spaces.